Product Description
SG7-11 Flexible Mechanical Jaw Coupling With Elastomer high speed coupling
What is a coupling:
A Coupling is a mechanical element used to connect 2 shafts or drives so that they can transmit rotation or motion. Couplings are usually used to solve the problem of alignment between different coaxes, while allowing a certain degree of axial, radial or angular error, thus ensuring a stable transmission effect.
Coupling is widely used in the shaft transmission of various mechanical devices, such as water pump, fan, compressor, hydraulic machinery, petroleum machinery, printing machinery, textile machinery, chemical machinery, mining machinery, metallurgical machinery, steam turbine, piston type power mechanical transmission system, tracked vehicles, generator sets of high-speed high-power mechanical transmission system, through dynamic balance, Couplings are widely used in high-speed transmission shafting.
Advantages of Shangkun coupling:
 Strong ability to compensate two-axis dislocation and radial displacement, can achieve a large range of axial, radial and angular displacement in a small space, simple structure, easy to maintain.
² obvious damping effect, no noise, no wear, can work in harsh environment.
² High transmission efficiency, up to 99.86%, especially suitable for high-speed high-power transmission.
² simple structure, light weight, small size, convenient disassembly, without moving the machine can be assembled and disassembled, without lubrication.
² Speed can be accurately transmitted, no slip, can be used for precision machinery transmission.
1. Product description :
 
Material:
Aluminum alloy / Stainless steel 
Applications:
Automation equipment and Servo Motor , CNC machine .
Industrial large-scale cabinet, oven, test chamber , Container. Truck.
 
Biological medical equipment, Lab equipment , Vehicle.Cabinet
Surface Finishing:
Brightness chrome plated, Polishing
Installation:
Easy to install, Left and right side install
Features:
Durable, Secure, High Quality
                                                                
Advantages:
1.Variety types fpr selection, prompt deliver
 
2.Well-equipped with extensive sales network
 
3.Advanced Production equipment and production technique)
 
4.Competitive Price(Factory direct price)with our good service
 
5.Different designs are available according to customers requests
 
6.Excellent quality testing equipment,100% inspection on critical dimension
 
Quality Controlling:
 
1.QC control:100% inspection on critical dimension
 
2.Chek the material before the production
 
3.Have the random inspection during the productipn
 
4.Make the 100%inspection before the shipment
2. Drawing and picture
3. Company information :

4. Contact us :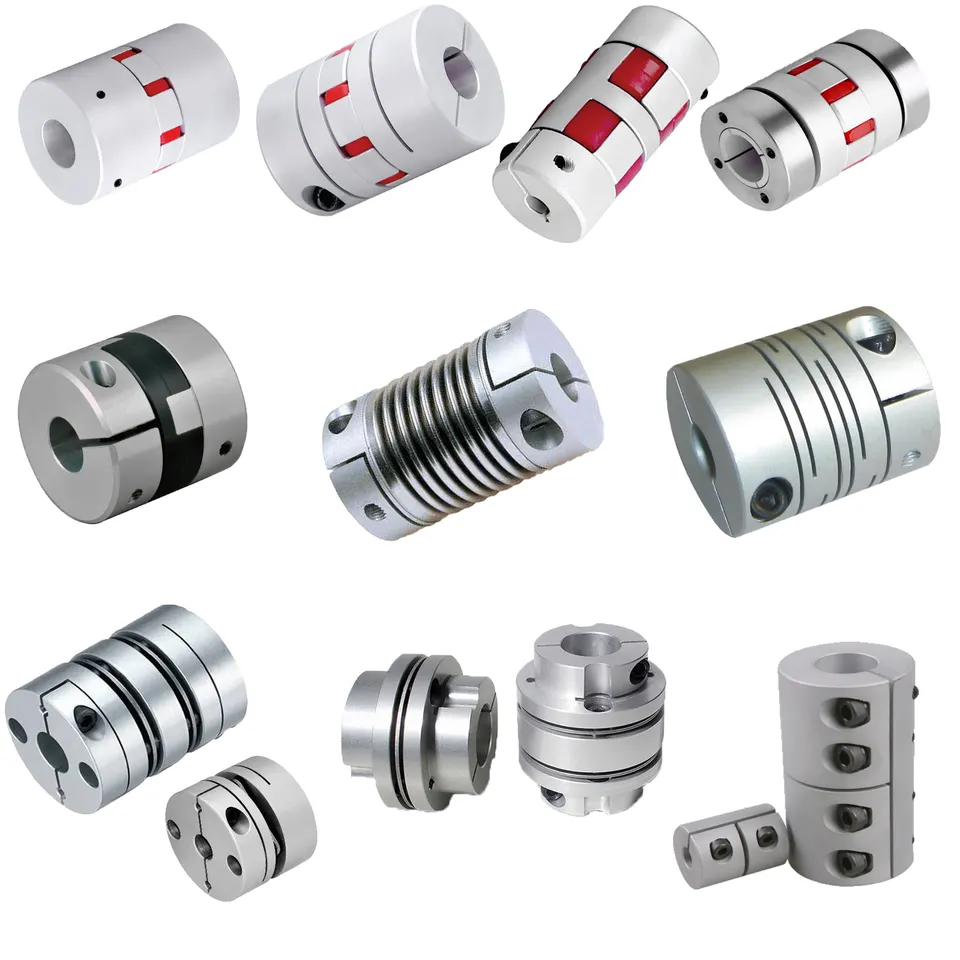 Impact of Jaw Coupling on Noise and Vibration in Mechanical Systems
Jaw couplings play a significant role in mitigating noise and vibration levels in mechanical systems. The design and materials of the coupling determine its ability to dampen vibrations and reduce noise. Here's how a jaw coupling affects noise and vibration in a mechanical system:
Vibration Dampening: Jaw couplings, especially elastomer jaw couplings, are designed to absorb and dampen vibrations that may occur in the system. The elastomeric spider element in elastomer jaw couplings acts as a cushion, absorbing shocks and vibrations that might result from misalignment, sudden starts, or stops. By absorbing vibrations, jaw couplings help prevent these vibrations from propagating through the system, thus reducing the overall vibration levels.
Noise Reduction: The vibration dampening properties of jaw couplings also contribute to noise reduction. Vibrations can lead to mechanical noise, which can be particularly pronounced in high-speed applications. By reducing vibrations, jaw couplings help decrease the noise generated during system operation. This is especially beneficial in applications where low noise levels are crucial for the comfort of operators or nearby occupants.
Misalignment Compensation: Jaw couplings are designed to accommodate a certain degree of misalignment between the shafts they connect. This ability to compensate for misalignment prevents additional forces and stresses from being transferred to the system, reducing the likelihood of generating noise and vibrations due to misalignment.
Material Selection: The choice of materials in jaw couplings can also influence noise and vibration levels. Elastomer jaw couplings, with their flexible spider element, offer superior vibration dampening compared to rigid metallic jaw couplings. Metallic jaw couplings, while not as effective at vibration dampening, are more rigid and offer higher torque capacity.
Overall, jaw couplings are effective in reducing noise and vibration levels in mechanical systems. The extent of noise and vibration reduction depends on the specific design, material, and the level of misalignment the coupling can accommodate. Properly selected and installed jaw couplings can contribute to a smoother and quieter operation of the entire mechanical system.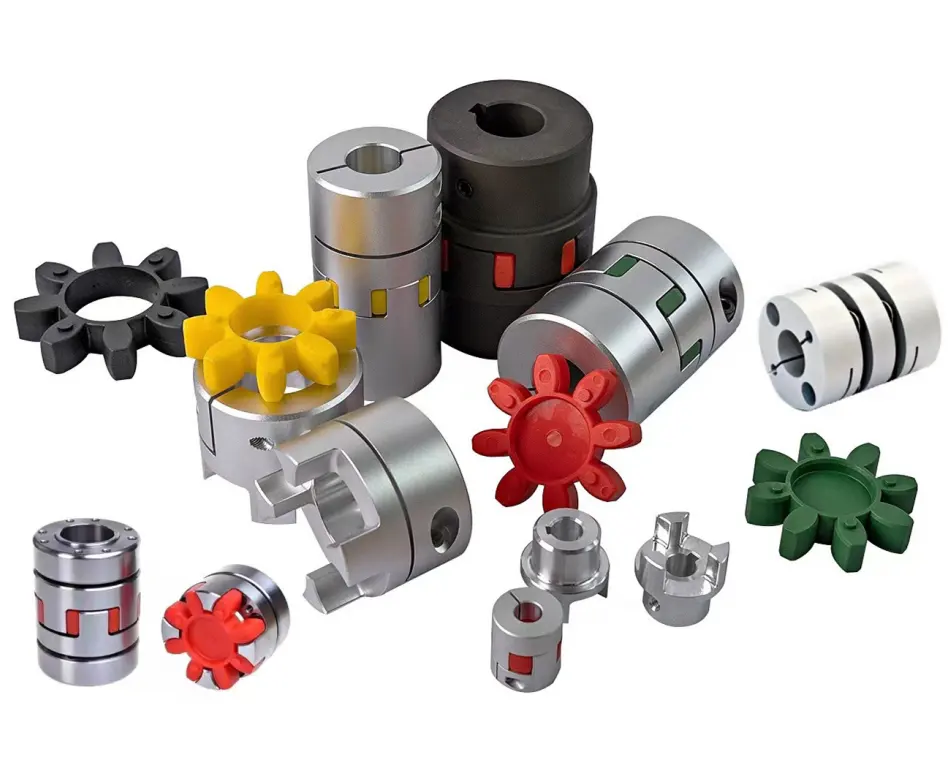 Can jaw couplings be used in applications with high shock and impact loads?
Yes, jaw couplings can be used in applications with high shock and impact loads, but their suitability depends on the specific design and construction of the coupling as well as the magnitude and frequency of the shock and impact loads. Jaw couplings are known for their ability to handle certain levels of shock and vibration due to the presence of the elastomer spider, which acts as a damping element to absorb and dissipate vibrations. However, there are some important considerations to take into account when using jaw couplings in high shock and impact load applications:
Coupling Material: The choice of coupling material is crucial in applications with high shock and impact loads. Couplings made from robust materials, such as steel or alloy, provide better resistance to deformation and can handle higher impact forces compared to couplings made from less sturdy materials.
Elastomer Spider: The elastomer spider is the central element of the jaw coupling and is responsible for absorbing shocks and vibrations. It is essential to select an elastomer spider with the appropriate hardness and resilience for the specific application. Harder elastomers can withstand higher loads but may transmit more vibration, while softer elastomers offer better shock absorption but have lower torque capacity. Choosing the right elastomer hardness is a trade-off between shock absorption and torque transmission requirements.
Operating Conditions: Consider the operating conditions, such as the frequency and magnitude of shock and impact loads, when selecting a jaw coupling. For applications with intermittent or occasional shock loads, standard jaw couplings with moderate shock absorption capabilities may suffice. However, for continuous or severe shock loads, specialized high-torque jaw couplings with enhanced shock absorption properties might be more suitable.
Regular Maintenance: In high shock and impact load applications, it is crucial to perform regular maintenance and inspections to identify any signs of wear, fatigue, or damage to the coupling components. Regular maintenance ensures that the coupling remains in good working condition and minimizes the risk of unexpected failures due to excessive loading.
Consider Alternative Couplings: While jaw couplings can handle certain levels of shock and impact loads, some applications with exceptionally high loads may require more specialized couplings, such as grid couplings, gear couplings, or disc couplings. These couplings are designed explicitly for heavy-duty applications with high shock and impact loads and can offer superior performance and reliability under such conditions.
In conclusion, jaw couplings can be used in applications with high shock and impact loads, but the specific coupling design, material, elastomer hardness, and operating conditions must be carefully considered. Proper selection, installation, and maintenance of the coupling are essential to ensure reliable performance and longevity in challenging operating environments with significant shock and impact loads.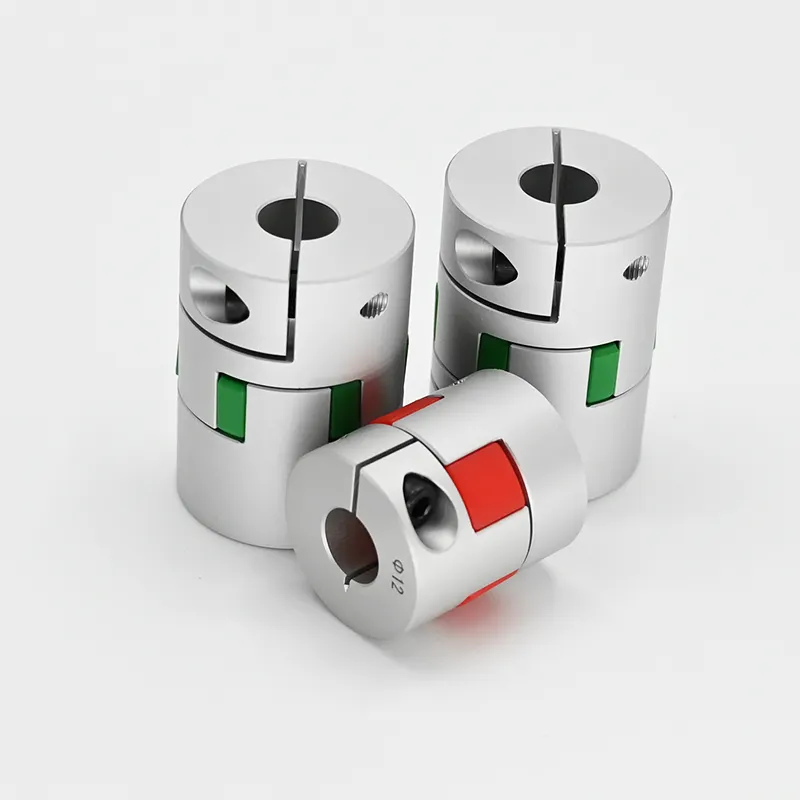 Advantages of Using Jaw Couplings in Mechanical Systems
Jaw couplings offer several advantages in mechanical systems:
Misalignment Compensation: Jaw couplings can tolerate angular, parallel, and axial misalignments between connected shafts, reducing the need for precise alignment during installation.
Vibration Damping: The elastomeric spider in the jaw coupling absorbs shocks and vibrations, providing smoother operation and extending the life of connected equipment.
Backlash-Free: Due to the tight fit between the jaws and the spider, jaw couplings are virtually backlash-free, enabling more accurate and responsive motion transfer.
High Torque Capacity: Jaw couplings can handle high torque loads, making them suitable for a wide range of industrial applications.
Easy Installation: With a simple design and few components, jaw couplings are easy to install and maintain.
Cost-Effective: Compared to other types of couplings, jaw couplings are relatively cost-effective, providing reliable power transmission at a lower cost.
Fail-Safe Design: In the event of a spider failure, the jaws can still maintain some torque transmission, allowing for limited operation and preventing sudden breakdowns.
Due to these advantages, jaw couplings are widely used in pumps, motors, fans, and various industrial machinery where misalignment, vibration, and torque transmission are critical factors.



editor by CX 2023-11-07