Product Description
Product Description
Flexible couplings are used to transmit torque from 1 shaft to another when the 2 shafts are slightly misaligned. It can accommodate varying degrees of misalignment up to 3°. In addition to allowing for misalignment, it can also be used for vibration damping or noise reduction.
Encoder couplings, flexible coupling, couplings working with Encoder & all kinds of motors (servo motor, DC motor, AC motor, gear motors).
MODEL

OD(mm)

Length(mm)

Bore range(mm)

JM14

14

22

3-7

JM14C

14

22

3-6

JM16

16

22

3-7

JM16C

16

22

3-7

JM20

20

30

4-10

JM20C

20

30

4-10

JM25

25

34

4-12

JM25C

25

34

4-12

JM30

30

35

5-16

JM30C

30

35

5-16

JM40

40

66

8-24

JM40C

40

66

8-24

JM55

55

78

10-28

JM55C

55

78

10-28

JM65

65

90

12-38

JM65C

65

90

12-38

JM80

80

114

16-45

JM80C

80

114

16-45

JM95

95

126

20-55

JM95C

95

126

20-55

JM105

105

140

20-62

JM105C

105

140

20-62

JM120

120

160

20-74

JM120C

120

160

20-74

JM135

135

185

22-80

JM135C

135

185

22-80

"C" means clamp type jaw coupling   Without "C" means setscrew type jaw coupling
application
Packaging & Shipping
Company Profile
Related product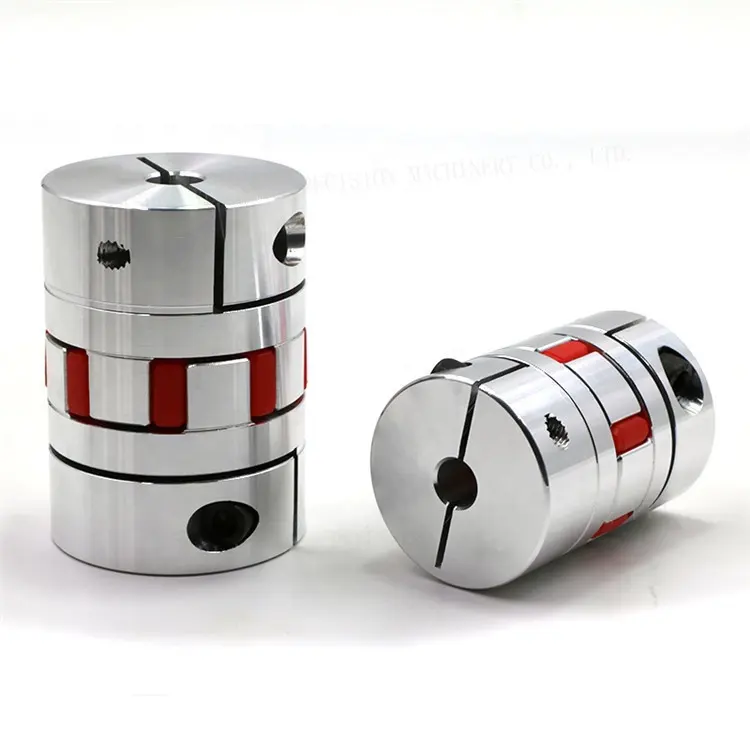 Maintenance-Free Options for Jaw Couplings
Jaw couplings typically require minimal maintenance due to their simple and robust design. However, there are maintenance-free options available that further reduce the need for regular maintenance. Here are some maintenance-free options for jaw couplings:
Lubrication-Free: Some jaw couplings are designed with materials that do not require lubrication. These couplings often use self-lubricating materials for the elastomeric spider, which eliminates the need for periodic lubrication. This feature is particularly advantageous in applications where regular maintenance is difficult or impractical.
Sealed Design: Certain jaw couplings come with a sealed design that prevents contaminants from entering the coupling. The seal protects the internal components, such as the elastomeric spider and the jaws, from dust, dirt, and moisture. As a result, these couplings have an extended service life and require less maintenance.
Corrosion-Resistant Materials: In harsh or corrosive environments, jaw couplings made from materials such as stainless steel or other corrosion-resistant alloys can be used. These materials offer excellent resistance to corrosion and wear, reducing the risk of coupling failure and minimizing the need for maintenance and replacement.
Composite Spider: Some jaw couplings feature a composite spider made from advanced materials that offer high strength and durability. These composite spiders are resistant to wear, fatigue, and chemical exposure, resulting in longer service life and less maintenance.
It's important to note that while these maintenance-free options can significantly reduce the need for regular maintenance, all couplings may still require periodic inspection to ensure they remain in good working condition. Regular visual checks for wear, damage, or misalignment can help identify potential issues before they become severe problems.
Choosing a maintenance-free jaw coupling can be beneficial in applications where downtime and maintenance costs must be minimized, or in environments where regular maintenance is challenging to perform.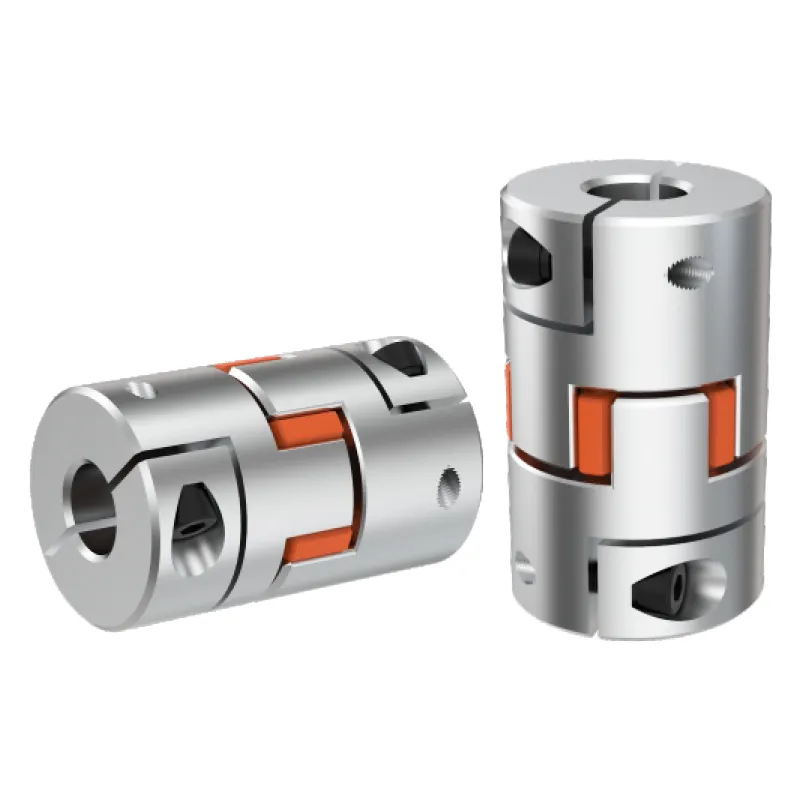 What are the factors influencing the thermal performance of a jaw coupling?
The thermal performance of a jaw coupling is influenced by several factors that affect its ability to dissipate heat and handle temperature fluctuations during operation. Here are the key factors that can impact the thermal performance of a jaw coupling:
Material Selection: The choice of materials used in the construction of the jaw coupling plays a significant role in its thermal performance. High-quality materials with good thermal conductivity can efficiently dissipate heat, reducing the risk of overheating and premature wear. Common materials used in jaw couplings include steel, aluminum, and various elastomers.
Elastomer Spider: The elastomer spider in the jaw coupling is a crucial component that can influence thermal performance. The type of elastomer and its specific characteristics, such as hardness and thermal conductivity, can affect the coupling's ability to absorb and dissipate heat generated during operation.
Operating Speed: The rotational speed of the coupling impacts its thermal performance. Higher operating speeds can generate more heat due to increased friction and stress on the coupling components. It is essential to ensure that the jaw coupling is rated for the specific operating speed of the application to prevent overheating and premature failure.
Torque and Load: The torque and load applied to the jaw coupling can also influence its thermal performance. Higher torque and load levels can result in increased heat generation. Properly sizing the coupling based on the application's torque and load requirements is essential to prevent excessive heat buildup.
Operating Environment: The environment in which the jaw coupling operates can impact its thermal performance. For example, if the coupling is located in an area with limited airflow or high ambient temperatures, it may experience reduced heat dissipation capabilities. On the other hand, an environment with good ventilation can help in maintaining the coupling's thermal performance.
Lubrication: Some jaw couplings may require lubrication to reduce friction and heat generation. Proper lubrication can enhance the coupling's thermal performance and extend its service life. It is essential to follow the manufacturer's guidelines regarding the type and frequency of lubrication to ensure optimal performance.
Continuous vs. Intermittent Operation: The thermal performance of a jaw coupling can also be influenced by the nature of its operation—continuous or intermittent. Intermittent operation allows the coupling to cool down between cycles, reducing the overall heat buildup compared to continuous operation, which may lead to higher operating temperatures.
Overall, careful consideration of these factors is crucial in ensuring the efficient thermal performance of a jaw coupling. Proper selection, installation, and maintenance of the coupling based on the specific application requirements can help prevent overheating, reduce wear, and prolong the coupling's lifespan.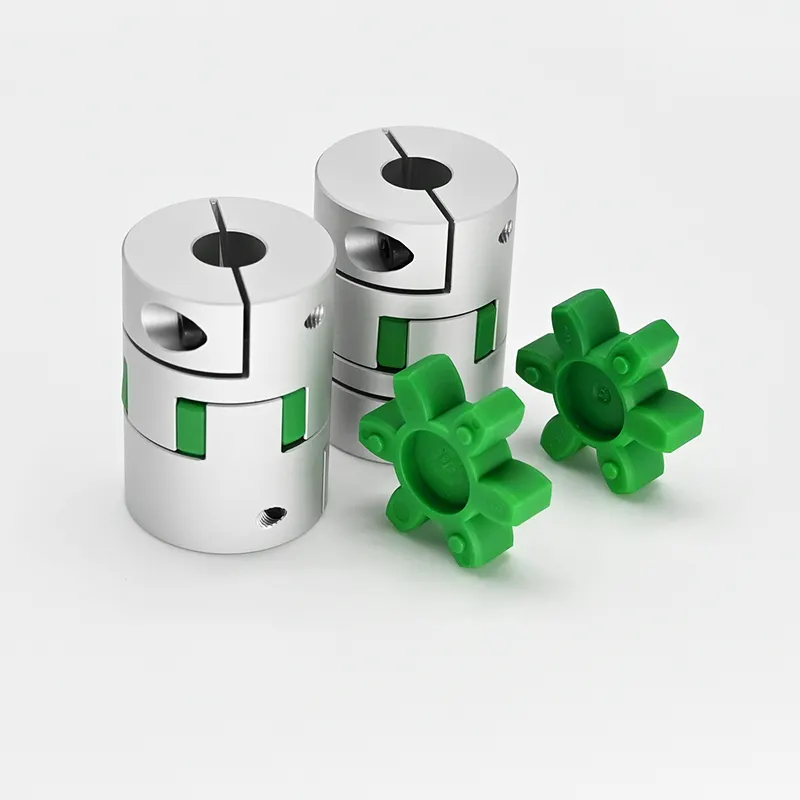 Types of Jaw Coupling Designs
Jaw couplings come in various designs to meet different application requirements. The main types include:
One-Piece Jaw Coupling: This design consists of a single piece of material, typically made of steel or aluminum. It offers simplicity and compactness, making it suitable for light to medium-duty applications.
Two-Piece Jaw Coupling: This design features two separate hubs with a flexible spider placed in between. The two-piece design allows for easier assembly and disassembly, making it convenient for maintenance and replacement of the elastomeric spider.
Three-Piece Jaw Coupling: In this design, the coupling includes three parts: two hubs and an insert. The hubs are typically made of metal, while the insert is an elastomeric element (spider). Three-piece jaw couplings provide better damping of vibrations and are commonly used in applications where vibration isolation is crucial.
Customizable Jaw Coupling: Some manufacturers offer customizable jaw couplings, allowing customers to choose different hub styles, materials, and spider hardness to tailor the coupling's performance for specific applications.
Each design has its advantages and is selected based on factors such as torque requirements, misalignment compensation, and ease of maintenance.



editor by CX 2023-10-08