Product Description
GFC-80X114 Manufacturer Flexible Clamp Style GFC Shaft Spider Gear Motor Jaw Coupling

GFC-80X114 Manufacturer Flexible Clamp Style GFC Shaft Spider Gear Motor Jaw Coupling

model parameter
common bore diameter d1,d2
ΦD
L
LF
LP
F
M
tightening screw torque
(N.M)
GFC-14X22
3,4,5,6,6.35
14
22
14.3
6.6
5.0
M2.5
1.0
GFC-20x25
3,4,5,6,6.35,7,8,9,9.525,10
20
25
16.7
8.6
5.9
M3
1.5
GFC-20X30
3,4,5,6,6.35,7,8,9,9.525,10
20
30
19.25
8.6
5.9
M3
1.5
GFC-25X30
4,5,6,6.35,7,8,9,9.525,10,11,12
25
30
20.82
11.6
8.5
M4
2.5
GFC-25X34
4,5,6,6.35,7,8,9,9.525,10,11,12
25
34
22.82
11.6
8.5
M4
2.5
GFC-30x35
5,6,6.35,7,8,9,10,11,12,12.7,14,15,16
30
35
23
11.5
10
M4
2.5
GFC-30X40
5,6,6.35,7,8,9,10,11,12,12.7,14,15,16
30
40
25
11.5
10
M4
2.5
GFC-40X50
6,8,9,10,11,12,12.7,14,15,16,17,18,19,20,22,24
40
50
32.1
14.5
14
M5
7
GFC-40X55
6,8,9,10,11,12,12.7,14,15,16,17,18,19,20,22,24
40
55
34.5
14.5
14
M5
7
GFC-40X66
6,8,910,11,12,12.7,14,15,16,17,18,19,20,22,24
40
66
40
14.5
14
M5
7
GFC-55X49
10,11,12,12.7,14,15,16,17,18,19,20,22,24,25,28,30,32
55
49
32
16.1
13.5
M6
12
GFC-55X78
8,10,12,12.7,14,15,16,17,18,19,20,22,24,25,28,30,32
55
78
46.4
16.1
19
M6
12
GFC-65X80
14,15,16,17,18,19,20,22,24,25,28,30,32,35,38,40
65
80
48.5
17.3
14
M8
20
GFC-65X90
14,15,16,17,18,19,20,22,24,25,28,30,32,35,38,40
65
90
53.5
17.3
22.5
M8
20
GFC-80X114
19,20,22,24,25,28,30,32,35,38,40,42,45
80
114
68
22.5
16
M8
20
GFC-95X126
19,20,22,24,25,28,30,32,35,38,40,42,45,50,55
95
126
74.5
24
18
M10
30
model parameter
Rated torque
(N.M)*
allowable eccentricity
(mm)*
allowable deflection angle
(°)*
allowable axial deviation
(mm)*
maximum speed
rpm
static torsional stiffness
(N.M/rad)
moment of inertia
(Kg.M2)
Material of shaft sleeve
Material of shrapnel
surface treatment
weight
(g)
GFC-14X22
5.0
0.1
1
±02
10000
50
1.0x10-6
High strength aluminum alloy
Polyurethane imported from Germany
Anodizing treatment
10
GFC-20X25
5.0
0.1
1
±02
10000
50
1.0x10-6
15
GFC-20X30
5.0
0.1
1
^02
10000
53
1.1x10-6
19
GFC-25X30
10
0.1
1
 
10000
90
5.2X10-6
33
GFC-25X34
10
0.1
1
£)2
10000
90
5.2x10-6
42
GFC-30X35
12.5
0.1
1
±02
10000
123
6.2x10-6
50
GFC-30x40
12.5
0.1
1
102
10000
123
6.2x10-6
60
GFC-40X50
17
0.1
1
 
8000
1100
3.8x10-5
115
GFC-40X55
17
0.1
1
±02
8000
1100
3.8x10-5
127
GFC-40X66
17
0.1
1
 
7000
1140
3.9x10-5
154
GFC-55X49
45
0.1
1
±02
6500
2350
1.6x10-3
241
GFC-55X78
45
0.1
1
102
6000
2500
1.6x10-3
341
GFC-65X80
108
0.1
1
±02
5500
4500
3.8x10-3
433
GFC-65X90
108
0.1
1
±02
5500
4800
3.8x10-3
583
GFC-80X114
145
0.1
1
£)2
4500
5000
1.8x10-3
1650
GFC-95X126
250
0.1
1
±02
4000
5000
2.0x10-3
1000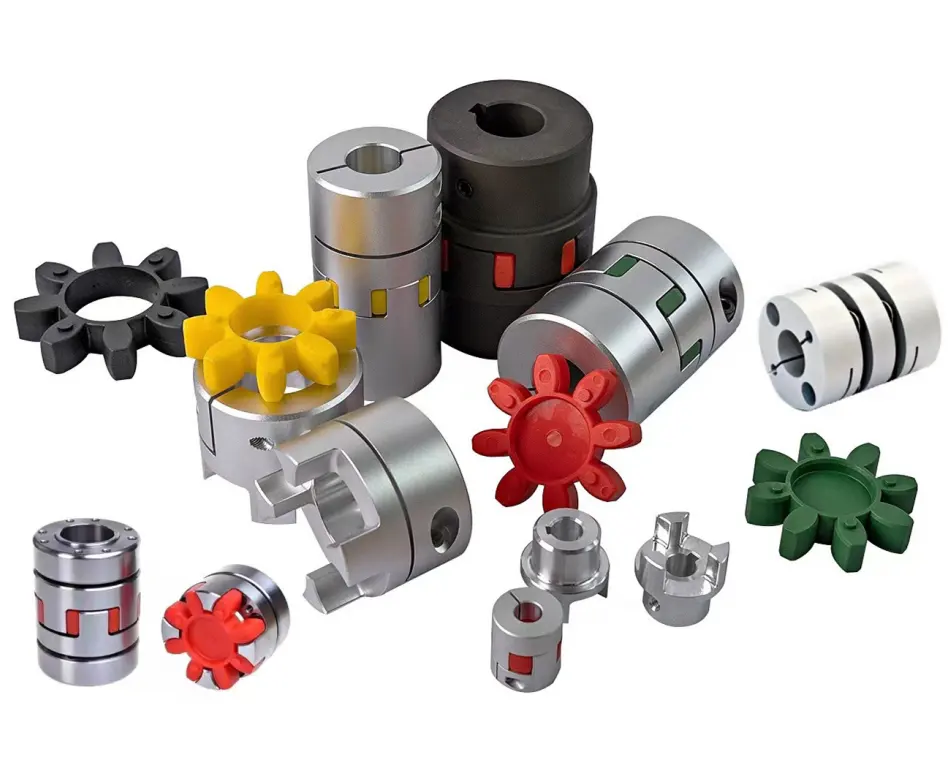 Accommodating Variable Operating Conditions and Loads with Jaw Couplings
Jaw couplings are designed to accommodate variable operating conditions and loads, making them suitable for a wide range of applications. Here's how jaw couplings achieve this:
Flexibility: The elastomeric spider (flexible element) in a jaw coupling provides flexibility, allowing for angular, parallel, and axial misalignment between the connected shafts. This flexibility helps to compensate for minor misalignments that may occur during operation or due to changes in operating conditions.
Shock Absorption: The elastomeric spider also acts as a shock absorber, dampening vibrations and reducing the impact of sudden loads or shocks. This feature is particularly beneficial in applications where the connected equipment may experience variable or unpredictable loads.
Torsional Stiffness Options: Jaw couplings are available in different torsional stiffness options, depending on the specific application requirements. Couplings with higher torsional stiffness are suitable for precision applications with minimal misalignment, while those with lower stiffness are ideal for applications with higher misalignment and shock absorption needs.
Material Selection: Jaw couplings can be manufactured from various materials, such as aluminum, steel, or stainless steel, to suit different environmental conditions and loads. Corrosion-resistant materials are available for harsh environments, ensuring the coupling's performance remains unaffected by changing operating conditions.
Size and Torque Ratings: Jaw couplings are available in a wide range of sizes and torque ratings, allowing users to select the appropriate coupling based on the expected operating conditions and torque requirements of the application. It's essential to choose a coupling size that comfortably handles the maximum expected load.
Interchangeability: Many jaw couplings are designed to be interchangeable with other manufacturers' couplings of the same size and type. This feature provides flexibility in sourcing replacements and makes it easier to adapt the coupling to changing requirements or equipment configurations.
Overall, jaw couplings' ability to handle variable operating conditions, misalignments, and loads makes them versatile and reliable components in a wide range of mechanical systems and applications.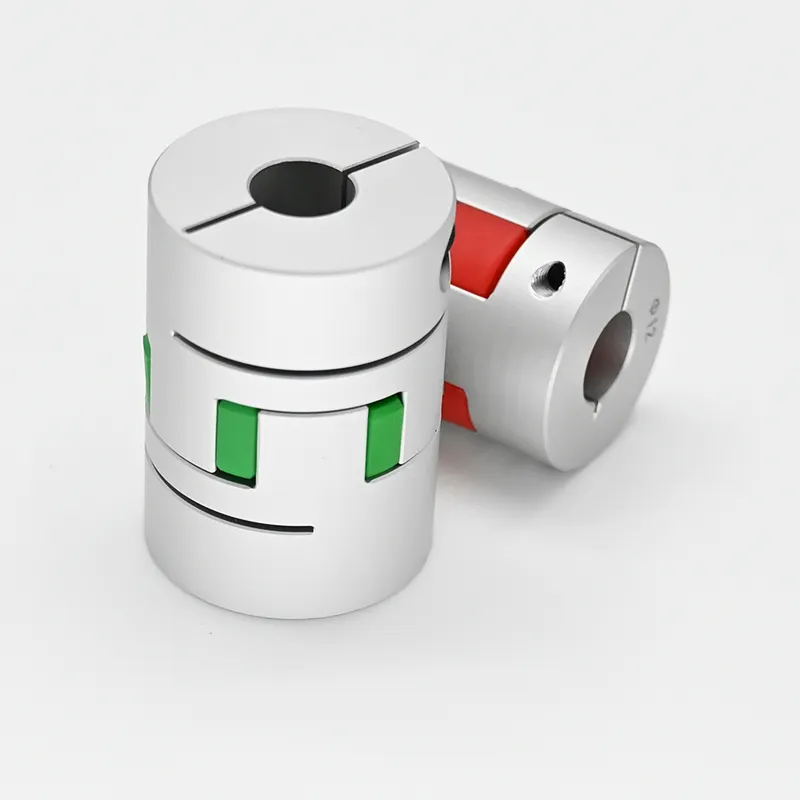 Can jaw couplings be used in pumps, compressors, and fans?
Yes, jaw couplings can be used in pumps, compressors, and fans, and they are commonly employed in these types of rotating equipment. Jaw couplings offer several advantages that make them well-suited for these applications:
Misalignment Compensation: Pumps, compressors, and fans often experience misalignment between the motor and driven equipment due to various factors such as installation errors, thermal expansion, or shaft deflection. Jaw couplings can handle both angular and parallel misalignment, ensuring smooth power transmission and reducing the risk of premature wear on the equipment's bearings.
Vibration Damping: Pumps, compressors, and fans can generate significant vibrations during operation. The elastomer spider in the jaw coupling acts as a damping element, absorbing and dissipating vibrations. This feature helps to reduce noise, extend the life of the equipment, and enhance overall system reliability.
Torsional Flexibility: Jaw couplings provide torsional flexibility, which is beneficial in applications where the motor and driven equipment experience varying loads or torque spikes. The elastomer spider allows for slight torsional deflection, protecting the equipment from sudden shock loads and torque fluctuations.
Compact and Lightweight: Pumps, compressors, and fans often have space constraints, and jaw couplings are compact and lightweight compared to some other coupling types. Their reduced inertia makes them suitable for applications with frequent start-stop cycles and high-speed operation.
Jaw couplings are available in various sizes and materials, allowing for customization based on the specific requirements of the pump, compressor, or fan application. The proper selection of a jaw coupling ensures optimal performance and efficiency in these rotating equipment systems.
However, it is essential to consider the specific operating conditions and torque requirements of each application when choosing a jaw coupling. For certain heavy-duty or high-precision applications, alternative coupling types such as gear couplings or disc couplings might be more suitable. It is always advisable to consult coupling manufacturers or engineering experts to select the most appropriate coupling for a given application.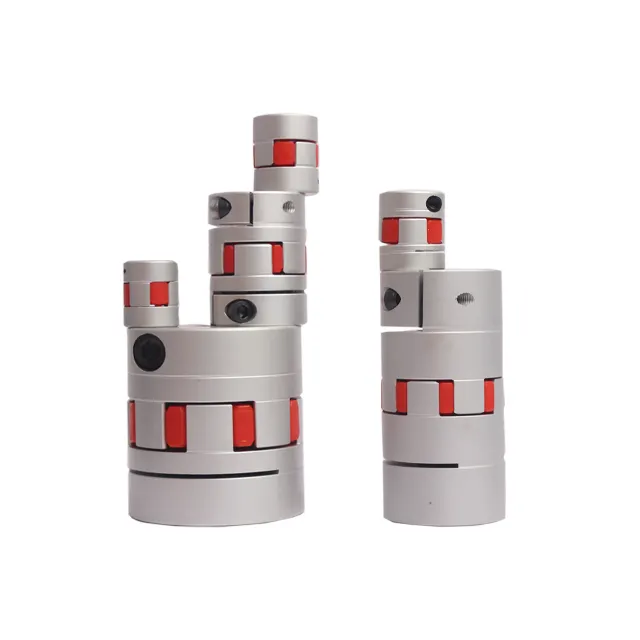 Maintenance Requirements for Jaw Couplings
Jaw couplings are relatively low-maintenance components, but regular inspections and preventive measures can help ensure their optimal performance and longevity. Here are the maintenance requirements for jaw couplings:
Visual Inspections: Regularly inspect the jaw coupling for signs of wear, damage, or misalignment. Look for cracks, chips, or deformation in the elastomeric spider, hubs, and other components.
Lubrication: Some jaw couplings require periodic lubrication of the elastomeric spider to prevent dry rot and ensure flexibility. Refer to the manufacturer's guidelines for the appropriate lubrication schedule and type.
Tighten Fasteners: Check and tighten all fasteners, including set screws, regularly to prevent coupling slippage and maintain a secure connection between the shafts and hubs.
Alignment: Ensure that the shafts connected by the jaw coupling are properly aligned. Excessive misalignment can lead to premature wear and failure of the elastomeric spider.
Replace Worn Parts: If any component of the jaw coupling shows signs of wear beyond acceptable limits, promptly replace it to avoid further damage and potential system failure.
Operating Conditions: Monitor the operating conditions of the machinery to prevent overheating or overloading, which can affect the performance and life of the coupling.
Following these maintenance practices can extend the life of the jaw coupling, reduce the risk of unexpected failures, and contribute to the overall reliability of the mechanical system.



editor by CX 2023-10-04