Product Description
GE/GR Flexible Shaft Couplings for General Shaft Connection 
Dimensions
1. Product name: GE/GR shaft couplings
2. Teeth: Depends on the requirement
3. Material: Aluminum,Steel, stainless steel,steel
4 Weight: Depends on the product
5. Type: Industial coupling
6. Bore: Stock bore, straight bore, keyway bore
PACKING
Packaging
                      
    Packing  

 

We use standard export wooden case, carton and pallet, but we can also pack it as per your special requirements.
OUR COMPANY
ZheJiang Mighty Machinery Co., Ltd. specializes in offering best service and the most competitive price for our customer.
After over 10 years' hard work, MIGHTY's business has grown rapidly and become an important partner for oversea clients in the industrial field and become a holding company for 3 manufacturing factories.
MIGHTY's products have obtained reputation of domestic and oversea customers with taking advantage of technology, management, quality and very competitive price.
Your satisfaction is the biggest motivation for our work, choose us to get high quality products and best service.
OUR FACTORY
FAQ:
1. MOQ
 A: Generally, 1 pc for standard parts; contact for nonstandard parts.
2. Delivery Time
 A: In stock: within 5 working days. Out of stock: depends on your order quantity.
3. How To Select
 A: part number or drawing, catalogue. If no, you can send us your sample, so we can make the drawing and sample accordingly.
4: What is the Warranty for your products?
 A:Normally our warranty is 1 year.
We warmly welcome friends from domestic and abroad come to us for business negotiation and cooperation for mutual benefit.To supply customers excellent quality products with good price and punctual delivery time is our responsibility.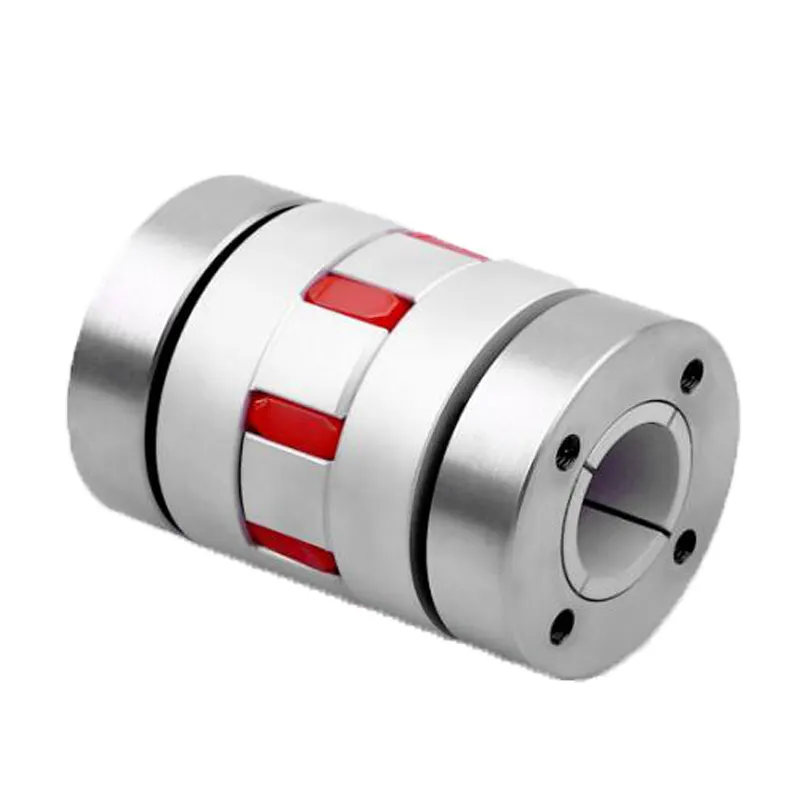 How do jaw couplings handle shaft misalignment in rotating equipment?
Jaw couplings are mechanical devices used in rotating equipment to connect two shafts and transmit torque. One of the key advantages of jaw couplings is their ability to handle shaft misalignment. Shaft misalignment can occur due to various reasons, including manufacturing tolerances, thermal expansion, foundation settling, or general wear and tear. Jaw couplings can accommodate misalignment in three primary ways:
Angular Misalignment: Jaw couplings can handle small angular misalignments between the connected shafts. The flexible nature of the elastomer spider (the central element in the jaw coupling) allows for a certain degree of angular movement between the hubs without exerting excessive forces on the connected equipment.
Parallel Misalignment: Parallel misalignment occurs when the two shafts are not perfectly aligned in a straight line. Jaw couplings can tolerate some amount of parallel misalignment due to the flexibility of the elastomer spider. This flexibility allows the hubs to move slightly relative to each other, thereby reducing the transmission of misalignment-induced forces to the equipment.
Axial Misalignment: Axial misalignment refers to the offset between the axial positions of the connected shafts. While jaw couplings are primarily designed for torque transmission and misalignment compensation in angular and parallel directions, they can also handle minor amounts of axial misalignment due to the elastomer spider's ability to absorb limited axial movement.
It is essential to note that jaw couplings have their limits in handling misalignment. Excessive misalignment beyond their design capabilities can lead to premature wear, reduced coupling life, and potential damage to the connected equipment. Therefore, it is crucial to understand the specific misalignment limits of the jaw coupling being used and ensure that the equipment operates within those limits.
In summary, jaw couplings handle shaft misalignment in rotating equipment by utilizing the flexibility of the elastomer spider to accommodate small angular, parallel, and axial misalignments. This feature helps protect the connected equipment from the detrimental effects of misalignment and ensures smooth and reliable operation.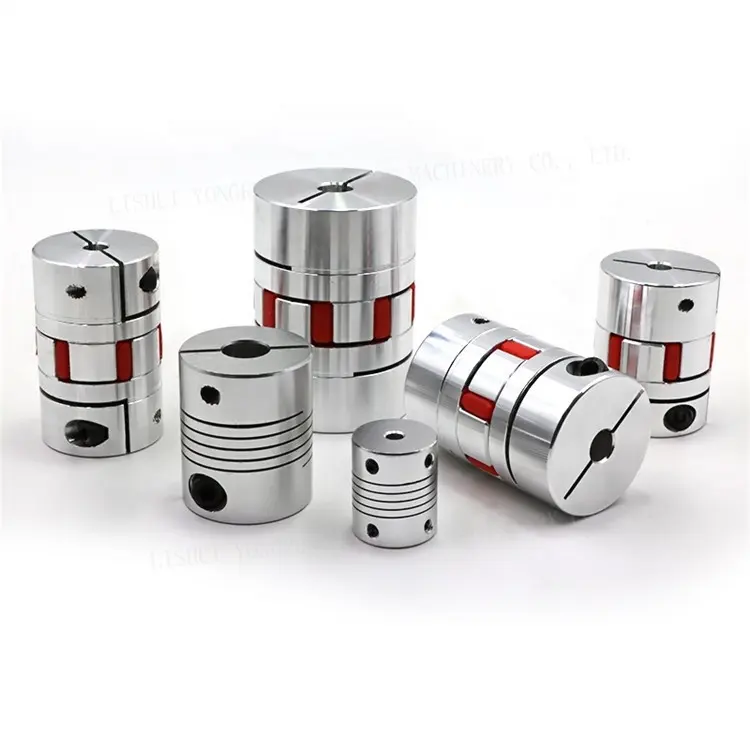 How does a jaw coupling deal with backlash and torsional stiffness?
A jaw coupling addresses backlash and torsional stiffness through its unique design features and choice of materials. Backlash is the amount of free play or clearance between the coupling components, while torsional stiffness refers to the resistance of the coupling to torsional or twisting forces. Here's how a jaw coupling deals with these aspects:
Backlash: Jaw couplings are designed to minimize backlash by ensuring a close fit between the elastomer spider and the jaws of the coupling hubs. The elastomer spider acts as a flexible intermediary that fills the space between the mating jaws, reducing any free play between them. This close fit reduces backlash and provides a more precise and responsive power transmission, especially in reversing or intermittent motion applications.
Torsional Stiffness: Torsional stiffness is achieved in jaw couplings by using materials that provide a balance between flexibility and rigidity. The elastomer spider in the coupling offers some flexibility, allowing it to absorb vibrations and dampen shocks. However, to ensure adequate torsional stiffness, the coupling hubs are usually made from sturdier materials like steel or aluminum. The choice of elastomer material and its geometry also influences the torsional stiffness of the coupling. Some applications may require coupling designs with higher torsional stiffness to maintain the accuracy and stability of the system, while others may benefit from more flexible couplings that can accommodate misalignments and shock loads. Overall, the combination of the elastomer's flexibility and the coupling hub's rigidity results in a coupling with a balanced torsional stiffness that can meet the specific needs of the application.
In summary, a jaw coupling minimizes backlash by providing a close fit between the coupling components, and it achieves torsional stiffness by using a combination of flexible elastomer materials and rigid coupling hubs. These design considerations make jaw couplings suitable for a wide range of applications that require reliable power transmission, precise motion control, and the ability to handle misalignments and shocks.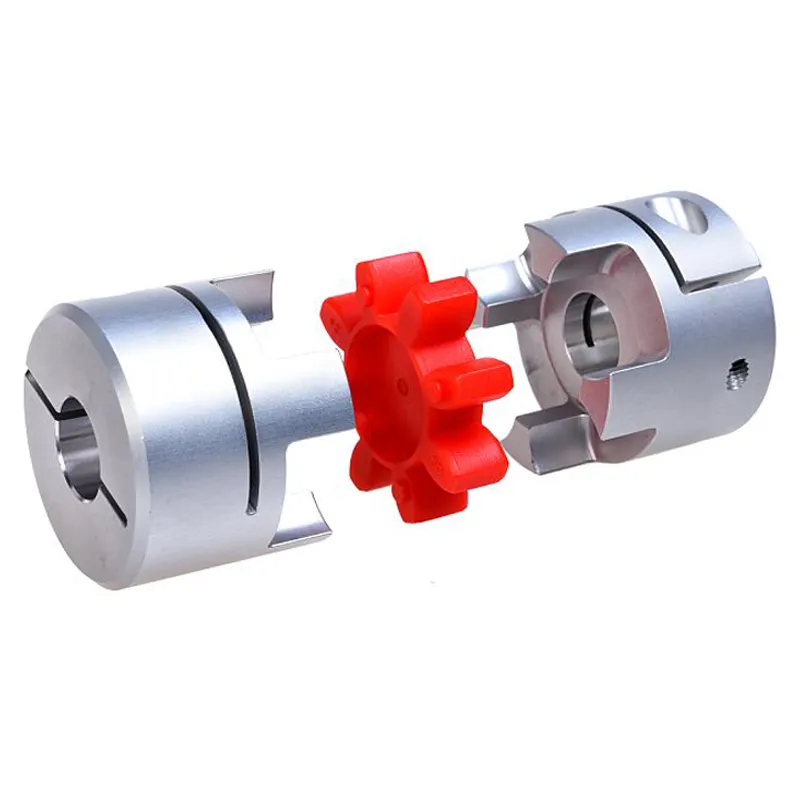 Limitations and Disadvantages of Using Jaw Couplings
While jaw couplings offer several advantages, they also have some limitations and disadvantages that should be considered when selecting them for specific applications:
Angular Misalignment: Jaw couplings are sensitive to angular misalignment, and excessive misalignment can lead to increased wear and reduced service life.
Radial Misalignment: Similar to angular misalignment, radial misalignment should be kept within acceptable limits to prevent premature wear.
Temperature Limitations: The operating temperature range of jaw couplings may be limited by the material used. For high-temperature applications, other coupling types may be more suitable.
Shock Load Absorption: While jaw couplings can handle moderate shock loads, they may not be ideal for applications with severe shock loads, which can lead to increased stress and failure.
Torsional Stiffness: Jaw couplings have a certain level of torsional stiffness, which means they may not provide the same level of vibration isolation as other coupling types.
Backlash: Jaw couplings can have some degree of backlash due to their elastomeric element, which may not be desirable in precision positioning applications.
Speed Limitations: High-speed applications may require careful consideration of the jaw coupling's design and material selection to avoid issues related to centrifugal forces.
Despite these limitations, jaw couplings remain a popular choice in many applications due to their ease of installation, simple design, and cost-effectiveness. Proper selection, installation, and maintenance can help mitigate some of these limitations and ensure optimal performance and reliability of the jaw coupling.



editor by CX 2023-09-27