Product Description
JM120C OD120mm Flexible Aluminum Jaw Coupling
Quick Details
Structure: Jaw / Spider
Flexible or Rigid: Flexible
Standard or Nonstandard: Standard
Material: Aluminium
Model Number: JM-C
Spider color: Red (Green and Yellow selected)
Out diameter: 120mm
Inner bore: 20-74
Length: 160mm
Torque:60.0-120.0 N.m
Specifications
1.The materials of Spider:German Bayer.
2.Hard Aluminum alloy
Your kind response of below questions will help us to recomemnd the most suitable model to you asap.
1.Areyou looking for Setscrew type or Clamp type?
2.what is coupling outer dimeter size?
3.what is coupling inner bore size and length?
4.what is coupling material(aluminium or Stainless steel )?
Dimensions:
Model
Inner bore
D
(mm)
L
(mm)
Nominal Torque
(N.m)
The Max of Torque
(N.m)
dmin
dmax
JM2-25
4
12
25
34
5.0
10.0
JM2-30
6
16
30
35
7.4
14.8
JM2-40
10
24
40
66
9.5
19.0
JM2-55
12
28
55
78
34
68
JM2-65
14
38
65
90
95
190
JM2-80
24
45
         80
114
135
270
JM2-95
30
55
          95
126
230
460
JM2-105
35
60
        105
140
380
760
Model
Allowable speed
(rpm)
Radial Misalignment(m.m)
Angular
Misalignment(°)
Axle
Misalignment(mm)
JM2-25
17000
0.02
1.0
+0.60
JM2-30
12000
0.02
1.0
+0.60
JM2-40
10000
0.02
1.0
+0.80
JM2-55
8000
0.02
1.0
+0.80
JM2-65
6000
0.02
1.0
+0.80
JM2-80
4600
0.02
1.0
+1.00
JM2-95
3800
0.02
1.0
+1.00
JM2-105
3400
0.02
1.0
Packaging Details:
Wooden or ply cases for export standard or according to the customers
Delivery Detail:3-5 days after receiving the 30% deposit
Contact Us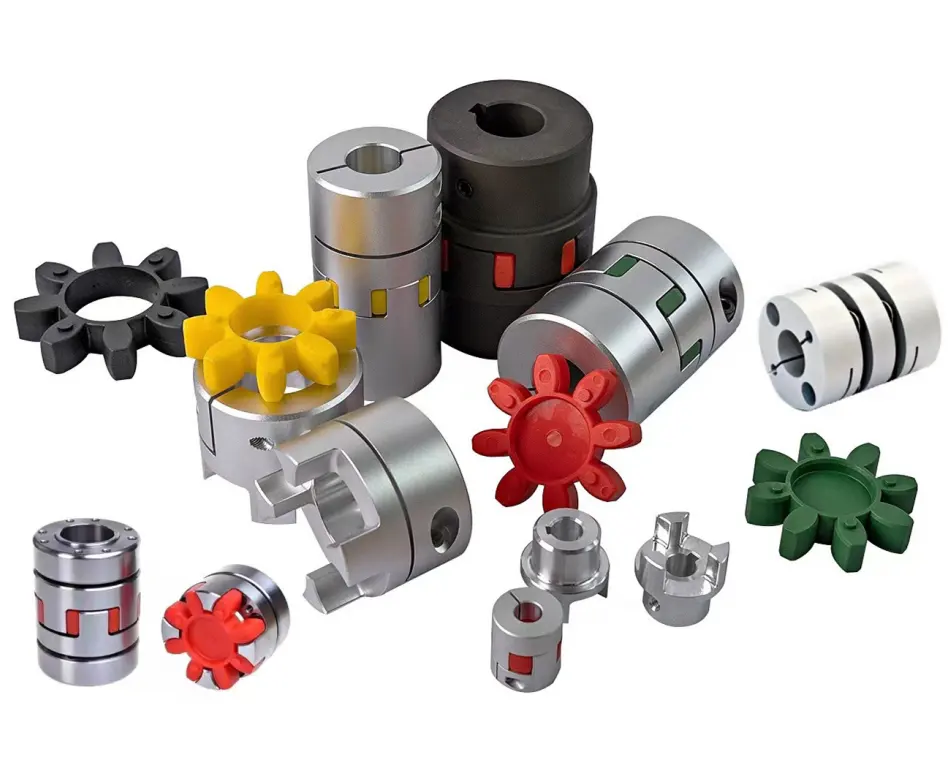 Accommodating Variable Operating Conditions and Loads with Jaw Couplings
Jaw couplings are designed to accommodate variable operating conditions and loads, making them suitable for a wide range of applications. Here's how jaw couplings achieve this:
Flexibility: The elastomeric spider (flexible element) in a jaw coupling provides flexibility, allowing for angular, parallel, and axial misalignment between the connected shafts. This flexibility helps to compensate for minor misalignments that may occur during operation or due to changes in operating conditions.
Shock Absorption: The elastomeric spider also acts as a shock absorber, dampening vibrations and reducing the impact of sudden loads or shocks. This feature is particularly beneficial in applications where the connected equipment may experience variable or unpredictable loads.
Torsional Stiffness Options: Jaw couplings are available in different torsional stiffness options, depending on the specific application requirements. Couplings with higher torsional stiffness are suitable for precision applications with minimal misalignment, while those with lower stiffness are ideal for applications with higher misalignment and shock absorption needs.
Material Selection: Jaw couplings can be manufactured from various materials, such as aluminum, steel, or stainless steel, to suit different environmental conditions and loads. Corrosion-resistant materials are available for harsh environments, ensuring the coupling's performance remains unaffected by changing operating conditions.
Size and Torque Ratings: Jaw couplings are available in a wide range of sizes and torque ratings, allowing users to select the appropriate coupling based on the expected operating conditions and torque requirements of the application. It's essential to choose a coupling size that comfortably handles the maximum expected load.
Interchangeability: Many jaw couplings are designed to be interchangeable with other manufacturers' couplings of the same size and type. This feature provides flexibility in sourcing replacements and makes it easier to adapt the coupling to changing requirements or equipment configurations.
Overall, jaw couplings' ability to handle variable operating conditions, misalignments, and loads makes them versatile and reliable components in a wide range of mechanical systems and applications.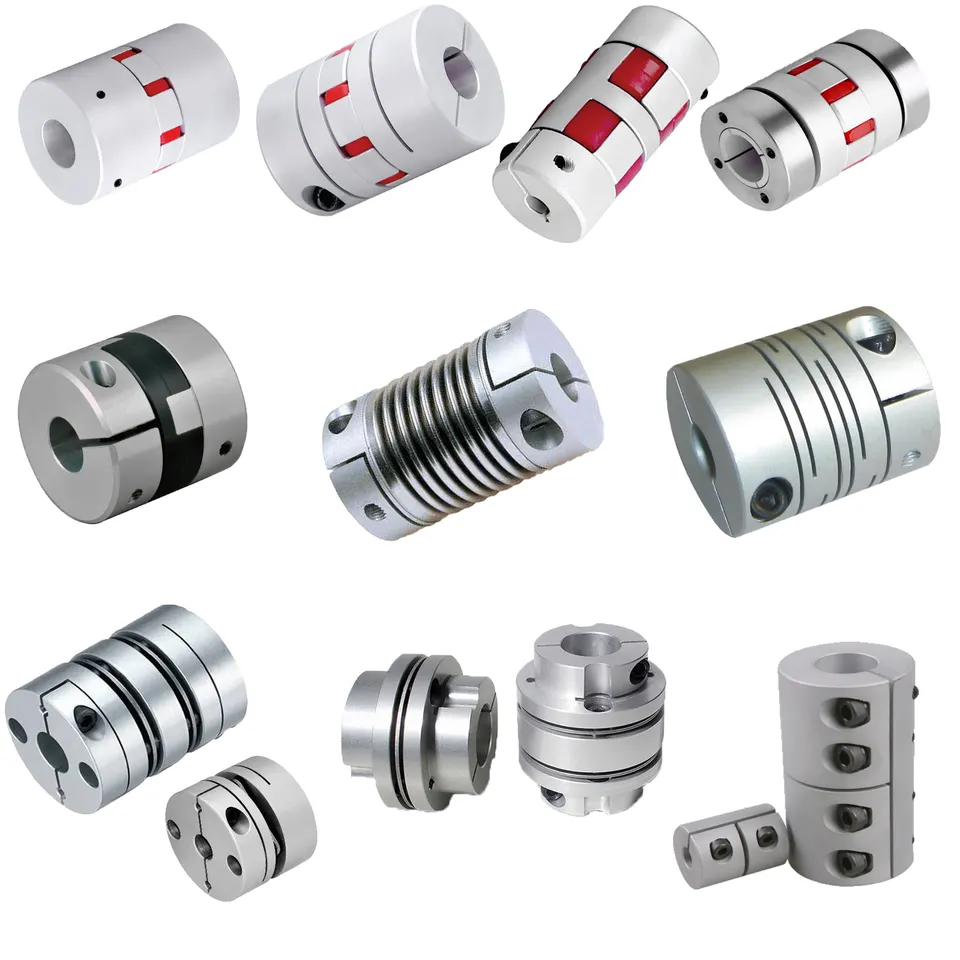 What are the common signs of wear and failure in jaw couplings?
Jaw couplings are reliable components, but like any mechanical part, they can experience wear and eventually fail if not properly maintained or replaced when necessary. Here are some common signs of wear and failure to look out for in jaw couplings:
Excessive Vibration: Increased vibration during operation may indicate wear in the elastomer spider or misalignment between the coupling hubs. Excessive vibration can lead to further damage and should be addressed promptly to prevent more significant issues.
Abnormal Noise: Unusual noises, such as rattling, clanking, or squeaking sounds, can indicate wear, misalignment, or damage in the jaw coupling. A well-functioning jaw coupling should operate smoothly and quietly.
Visible Cracks or Damage: Inspect the jaw coupling regularly for any visible cracks, tears, or damage to the elastomer spider or coupling hubs. Cracks in the elastomer can lead to reduced torque transmission and compromise the coupling's performance.
Loose or Displaced Spider: A loose or displaced elastomer spider may result from wear or improper installation. The spider should fit securely between the coupling hubs. Any sign of misalignment or gaps in the spider indicates potential wear or failure.
Increased Heat: Excessive heat generation in the jaw coupling could indicate high levels of friction or misalignment, leading to wear on the elastomer spider. Elevated temperatures can accelerate wear and shorten the coupling's lifespan.
Shaft Misalignment: If you notice misalignment between the connected shafts, it can be a sign that the jaw coupling is no longer compensating for misalignment properly. This can lead to increased stress on the shafts and coupling components.
Reduced Performance: A jaw coupling nearing the end of its service life may experience reduced torque transmission and compromised rotational speed control. As the elastomer spider wears, the coupling's ability to transmit torque efficiently diminishes.
Unexpected Downtime: Frequent unexpected shutdowns or downtime may indicate coupling failure. Sudden coupling failure can lead to costly equipment damage and unplanned production halts.
It is essential to conduct regular maintenance and inspections to detect these signs of wear and failure early. Preventive measures such as proper lubrication, alignment checks, and timely replacement of worn elastomer spiders can extend the life of the jaw coupling and prevent unexpected failures.
If any of these signs are observed, it is advisable to consult coupling manufacturers or maintenance professionals for a thorough assessment and appropriate corrective actions.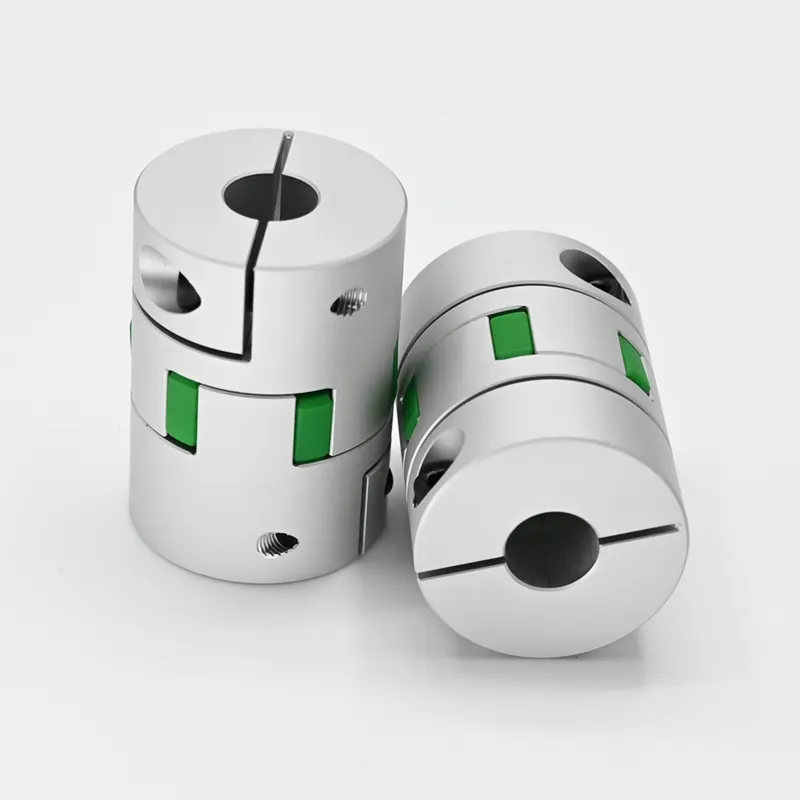 Handling Angular, Parallel, and Axial Misalignment with Jaw Couplings
Jaw couplings are designed to handle various types of misalignment that can occur between the shafts they connect. These misalignments include:
Angular Misalignment: When the shafts are not aligned in a straight line and have an angular offset, jaw couplings can accommodate this misalignment due to the flexibility of their elastomeric spider. The spider allows for a limited amount of angular movement between the hubs, reducing stress on the connected equipment.
Parallel Misalignment: Parallel misalignment occurs when the shafts are not perfectly aligned but are parallel to each other. Jaw couplings can handle parallel misalignment to some extent, thanks to the elastomeric spider's ability to flex and offset slight shaft misalignments.
Axial Misalignment: Axial misalignment refers to the displacement of shafts along their rotational axis. While jaw couplings are primarily designed for torque transmission and misalignment compensation, they have limited capability to handle axial misalignment. Excessive axial misalignment can lead to premature wear and reduce the coupling's effectiveness.
It's important to note that jaw couplings have specific misalignment limits, and exceeding these limits can lead to increased wear and decreased performance. Regular maintenance and inspection of jaw couplings are essential to ensure they are operating within acceptable misalignment parameters.



editor by CX 2023-08-02