Product Description
Customized Forestry machinery and equipment jaw couplings,jaw spider coupling,curved jaw coupling
 
Features
1. Split in half design for simple installation, maintaining free
2. High misalignment capacity
3. Facility protection for a twirl, twist, impact, and abrasion
4. No lubrication for polyurethane flex element 
5. Available for bore-to-size hubs and taper lock bushes
6. Low noise 
Product Description
Size

Type

A

B

D

E

Standard

Metric bore

Inch bore

bore

Min

Max

Min

Max

L035

1

16

20.5

6.6

/

3

3

8

1/8"

3/8"

L050

1

28

43.2

15.6

/

6

6

15

3/16"

5/8"

L070

1

35

50.8

19

/

9

9

19

3/16"

3/4"

L075

1

45

54.7

21

/

9

9

25

3/16"

1"

L090

1

54

54.7

21

/

9

9

28

3/16"

1 1/8"

L095

1

54

63.7

25.5

/

9

9

28

3/8"

1 1/8"

L099

1

64.5

72.5

27

/

12

12

35

7/16"

1 3/8"

L100

1

64.5

88.5

35

/

12

12

35

7/16"

1 3/8"

L110

1

85

108

43

/

15

15

48

1/2"

1 7/8"

L150

1

96

115.4

45

/

15

15

48

5/8"

1 7/8"

L190

2

115

133.4

54

101.6

19

19

55

5/8"

2 1/4"

L225

2

127

153.4

64

108

19

19

65

3/4"

2 5/8"
Related Products
Company Profile
FAQ
Q: How to ship to us?
A: It is available by air, by sea, or by train.
Q: How to pay the money?
A: T/T and L/C are preferred, with different currencies, including USD, EUR, RMB, etc.
Q: How can I know if the product is suitable for me?
A: >1ST confirm drawing and specification >2nd test sample >3rd start mass production.
Q: Can I come to your company to visit?
A: Yes, you are welcome to visit us at any time.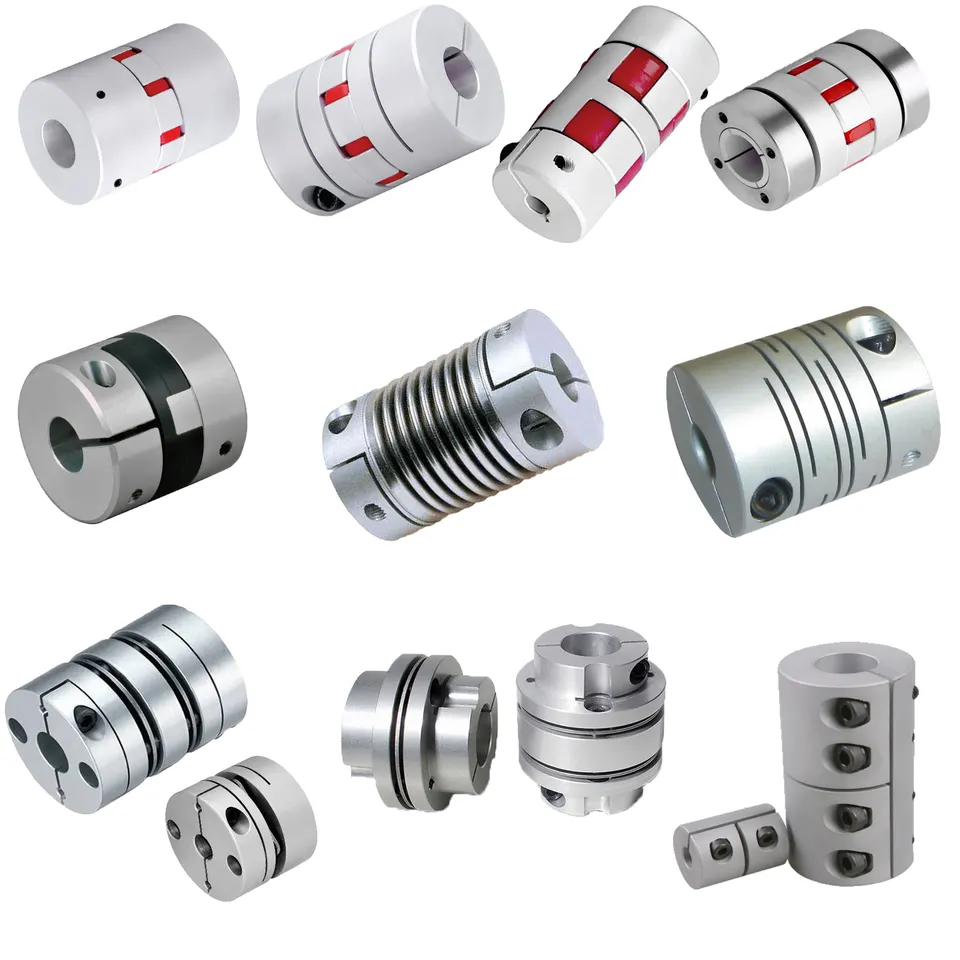 Impact of Jaw Coupling on Noise and Vibration in Mechanical Systems
Jaw couplings play a significant role in mitigating noise and vibration levels in mechanical systems. The design and materials of the coupling determine its ability to dampen vibrations and reduce noise. Here's how a jaw coupling affects noise and vibration in a mechanical system:
Vibration Dampening: Jaw couplings, especially elastomer jaw couplings, are designed to absorb and dampen vibrations that may occur in the system. The elastomeric spider element in elastomer jaw couplings acts as a cushion, absorbing shocks and vibrations that might result from misalignment, sudden starts, or stops. By absorbing vibrations, jaw couplings help prevent these vibrations from propagating through the system, thus reducing the overall vibration levels.
Noise Reduction: The vibration dampening properties of jaw couplings also contribute to noise reduction. Vibrations can lead to mechanical noise, which can be particularly pronounced in high-speed applications. By reducing vibrations, jaw couplings help decrease the noise generated during system operation. This is especially beneficial in applications where low noise levels are crucial for the comfort of operators or nearby occupants.
Misalignment Compensation: Jaw couplings are designed to accommodate a certain degree of misalignment between the shafts they connect. This ability to compensate for misalignment prevents additional forces and stresses from being transferred to the system, reducing the likelihood of generating noise and vibrations due to misalignment.
Material Selection: The choice of materials in jaw couplings can also influence noise and vibration levels. Elastomer jaw couplings, with their flexible spider element, offer superior vibration dampening compared to rigid metallic jaw couplings. Metallic jaw couplings, while not as effective at vibration dampening, are more rigid and offer higher torque capacity.
Overall, jaw couplings are effective in reducing noise and vibration levels in mechanical systems. The extent of noise and vibration reduction depends on the specific design, material, and the level of misalignment the coupling can accommodate. Properly selected and installed jaw couplings can contribute to a smoother and quieter operation of the entire mechanical system.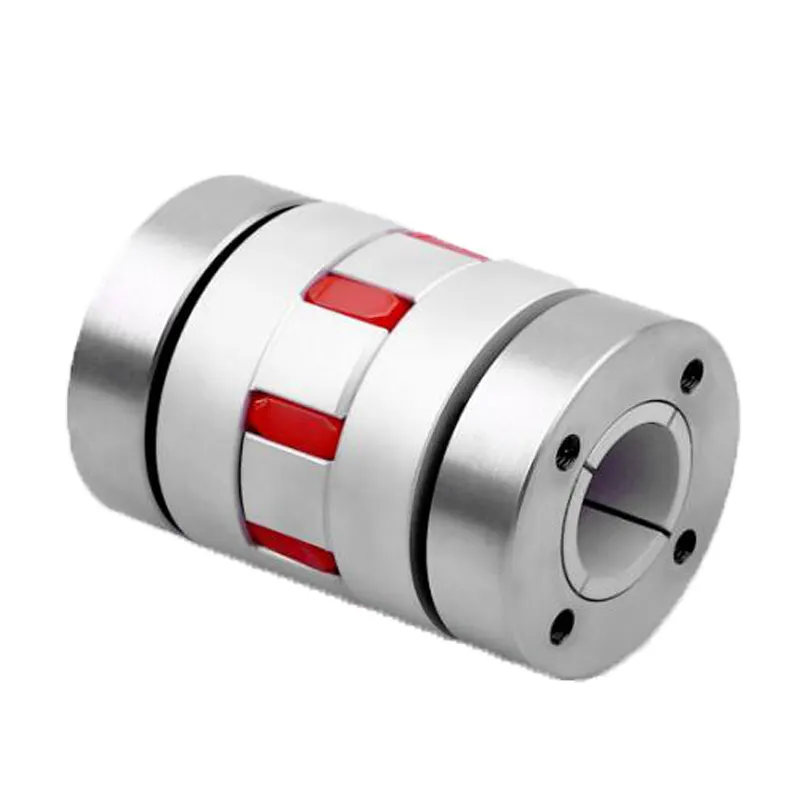 Can jaw couplings be used in marine and automotive applications?
Yes, jaw couplings can be used in both marine and automotive applications, and they have proven to be effective in various scenarios within these industries. Here's how jaw couplings are utilized in marine and automotive settings:
Marine Applications:
In the marine industry, jaw couplings are commonly used to connect the engine to various components, such as propellers, pumps, generators, and auxiliary equipment. They offer several advantages that make them suitable for marine applications:
Corrosion Resistance: Marine environments are exposed to saltwater and other corrosive elements. Jaw couplings made from materials such as stainless steel or other corrosion-resistant alloys can withstand these harsh conditions and ensure long-lasting performance.
Misalignment Compensation: Vessel movement and hull flexing can lead to misalignment between the engine and driven components. Jaw couplings can accommodate both angular and parallel misalignment, ensuring efficient power transmission even in dynamic marine conditions.
Vibration Damping: The elastomer spider in the jaw coupling absorbs vibrations generated by the engine and other equipment, contributing to smoother operation and reduced wear on the components.
Compact Design: Space is often limited on boats and ships. Jaw couplings have a compact and lightweight design, making them suitable for applications with space constraints.
Automotive Applications:
In the automotive industry, jaw couplings are used in various applications, including power steering systems, engine-driven accessories, and HVAC blowers. They offer several benefits for automotive applications:
Misalignment Compensation: Jaw couplings can handle small misalignments that can occur due to engine movements or assembly tolerances, ensuring reliable power transmission and reducing stress on the drivetrain.
Vibration Damping: The elastomer spider in the jaw coupling dampens engine vibrations, contributing to a smoother and quieter ride for passengers.
Compact and Lightweight: In modern vehicles, lightweight components are essential for fuel efficiency and overall performance. Jaw couplings' compact design and low inertia make them suitable for automotive applications.
Cost-Effectiveness: Jaw couplings are often more cost-effective compared to some other coupling types, making them a popular choice for automotive applications where cost considerations are essential.
In conclusion, jaw couplings are versatile and can be successfully used in marine and automotive applications. Their ability to handle misalignment, dampen vibrations, and provide efficient power transmission makes them reliable components in various dynamic and demanding environments.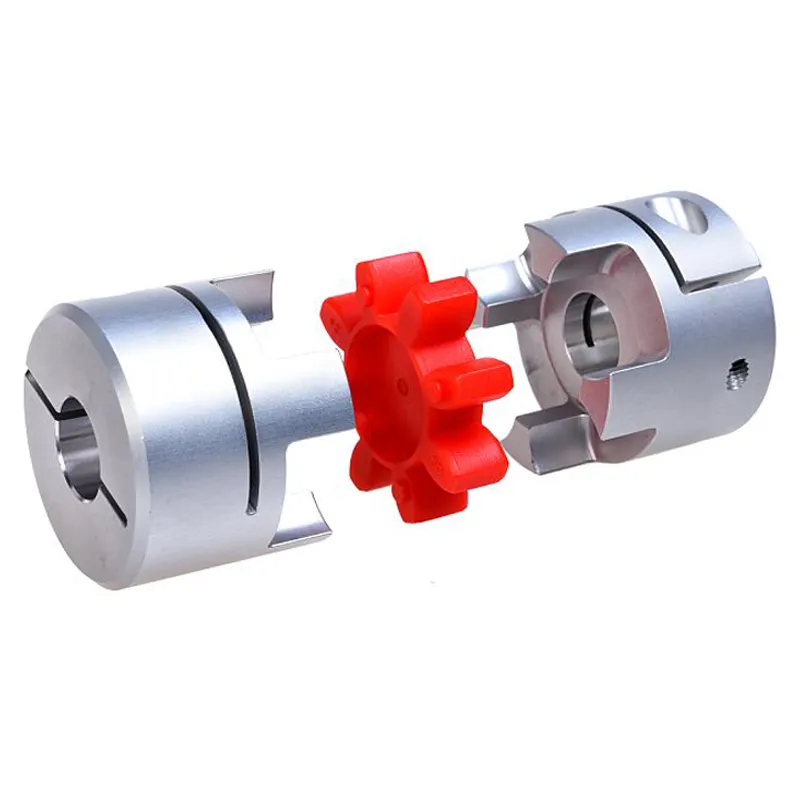 Limitations and Disadvantages of Using Jaw Couplings
While jaw couplings offer several advantages, they also have some limitations and disadvantages that should be considered when selecting them for specific applications:
Angular Misalignment: Jaw couplings are sensitive to angular misalignment, and excessive misalignment can lead to increased wear and reduced service life.
Radial Misalignment: Similar to angular misalignment, radial misalignment should be kept within acceptable limits to prevent premature wear.
Temperature Limitations: The operating temperature range of jaw couplings may be limited by the material used. For high-temperature applications, other coupling types may be more suitable.
Shock Load Absorption: While jaw couplings can handle moderate shock loads, they may not be ideal for applications with severe shock loads, which can lead to increased stress and failure.
Torsional Stiffness: Jaw couplings have a certain level of torsional stiffness, which means they may not provide the same level of vibration isolation as other coupling types.
Backlash: Jaw couplings can have some degree of backlash due to their elastomeric element, which may not be desirable in precision positioning applications.
Speed Limitations: High-speed applications may require careful consideration of the jaw coupling's design and material selection to avoid issues related to centrifugal forces.
Despite these limitations, jaw couplings remain a popular choice in many applications due to their ease of installation, simple design, and cost-effectiveness. Proper selection, installation, and maintenance can help mitigate some of these limitations and ensure optimal performance and reliability of the jaw coupling.



editor by CX 2023-10-07