Product Description
JAW coupling,
1. The couplings offer a range of hub and element selection to meet different demands.
2. They can absorb shock and cater for incidental misalignment and damp out small amplitude vibrations.
3. NBR, Urethane, Hytrel elements.
4. Customized requirement is available.
| | | | | |
| --- | --- | --- | --- | --- |
| Element material | Rubber | Urethane | Hytrel | Brozen |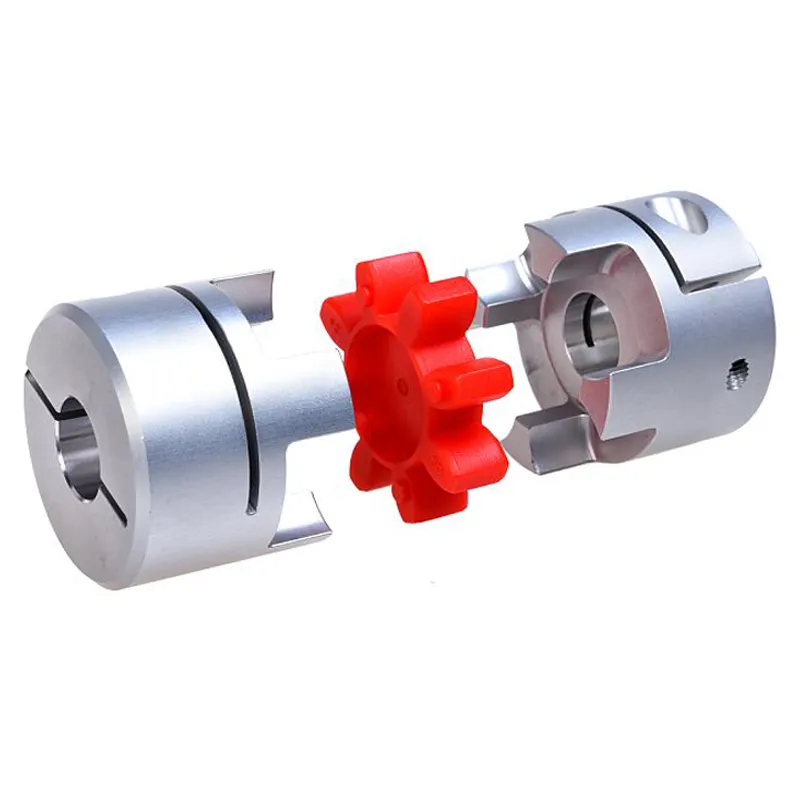 Using Jaw Couplings in Hydraulic and Pneumatic Systems
Yes, jaw couplings can be used in both hydraulic and pneumatic systems to connect the driving and driven components. Jaw couplings are versatile and well-suited for various power transmission applications, including those involving fluid-based systems. Here's how jaw couplings are compatible with hydraulic and pneumatic systems:
Flexibility: Jaw couplings are made of flexible materials, such as elastomers, which allow for some angular, parallel, and axial misalignment between the shafts. In hydraulic and pneumatic systems, where vibrations and movements are common, the jaw coupling's ability to accommodate misalignment helps reduce stress on the connected components.
Shock Absorption: Hydraulic systems often experience pressure surges and hydraulic shocks due to rapid changes in fluid flow. Similarly, pneumatic systems may encounter air pressure fluctuations. Jaw couplings can absorb shocks and vibrations, protecting the system from sudden jolts and minimizing wear on components.
Corrosion Resistance: Some jaw couplings are available in materials that offer excellent corrosion resistance, making them suitable for hydraulic systems working with hydraulic fluids and pneumatic systems handling compressed air, which may contain moisture.
Low Inertia: Jaw couplings have low inertia, which is advantageous in applications where quick start-stop responses are required. This characteristic is beneficial in hydraulic and pneumatic systems that need rapid and precise movements.
Backlash Prevention: Backlash, which can lead to vibrations and inaccuracies, is minimized with jaw couplings. This feature is beneficial in hydraulic and pneumatic systems where precise positioning is crucial.
Simple Installation: Jaw couplings are easy to install and require minimal maintenance, making them suitable for various hydraulic and pneumatic applications.
Compatibility with Shaft Sizes: Jaw couplings are available in different sizes and configurations, allowing for compatibility with various shaft diameters commonly found in hydraulic and pneumatic systems.
Overall, jaw couplings offer reliable power transmission in hydraulic and pneumatic systems, providing benefits such as flexibility, shock absorption, corrosion resistance, low inertia, and backlash prevention. However, it's essential to consider factors such as operating conditions, temperature, and the type of fluid used when selecting a jaw coupling for a specific hydraulic or pneumatic application.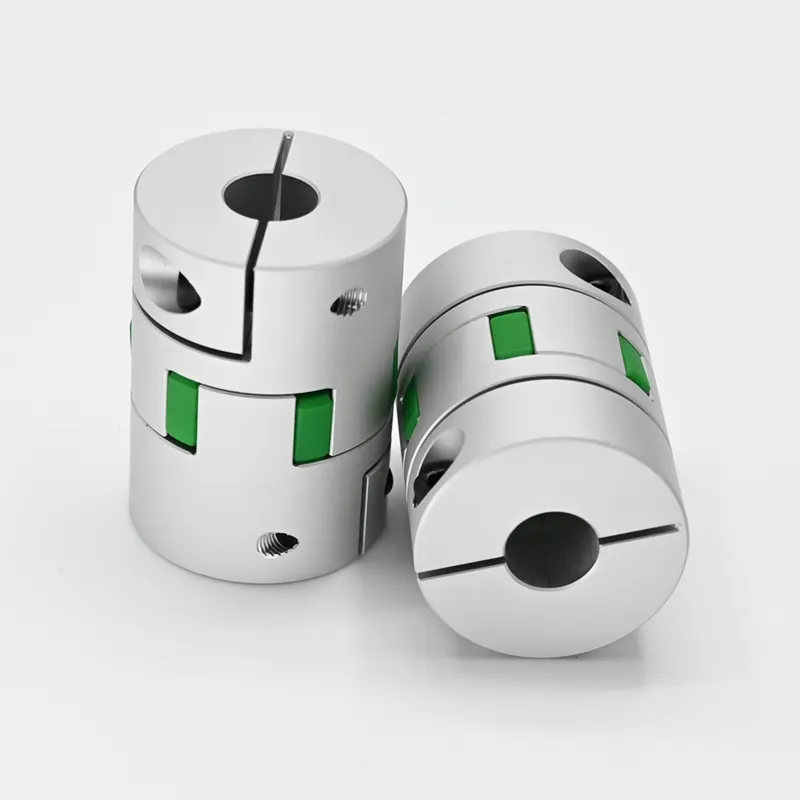 Can jaw couplings be used in servo motor and stepper motor applications?
Yes, jaw couplings can be used in both servo motor and stepper motor applications, and they are commonly employed in such systems. The key factors that make jaw couplings suitable for these motor types are their ability to handle misalignment, their torsional flexibility, and their compact and lightweight design.
In servo motor applications, jaw couplings are chosen for their high precision and responsiveness. Servo motors require couplings that can transmit torque with minimal backlash and provide accurate motion control. Jaw couplings achieve this by maintaining a tight fit between the elastomer spider and the coupling hubs, minimizing backlash and ensuring precise torque transmission. The elastomer spider also dampens vibrations and shocks, contributing to smoother motor operation and increased system stability. Additionally, the compact size and low inertia of jaw couplings make them ideal for high-speed servo motor applications where quick acceleration and deceleration are crucial.
In stepper motor applications, jaw couplings are preferred for their ability to handle misalignment. Stepper motors often have shaft misalignment due to manufacturing tolerances or other factors, and jaw couplings can accommodate both angular and parallel misalignment without imposing significant additional loads on the motor bearings. This helps to reduce wear and extend the life of the motor and coupling components. Moreover, stepper motors are commonly used in open-loop systems, where precise positioning and motion control are essential. Jaw couplings' low backlash characteristics aid in achieving accurate positioning and eliminating any motion inaccuracies that might arise due to backlash in the coupling.
Overall, jaw couplings are well-suited for servo motor and stepper motor applications due to their precision, ability to handle misalignment, torsional flexibility, and low inertia. When selecting a jaw coupling for a specific motor application, it is essential to consider factors such as torque requirements, operating conditions, and motor specifications to ensure optimal performance and reliability in the system.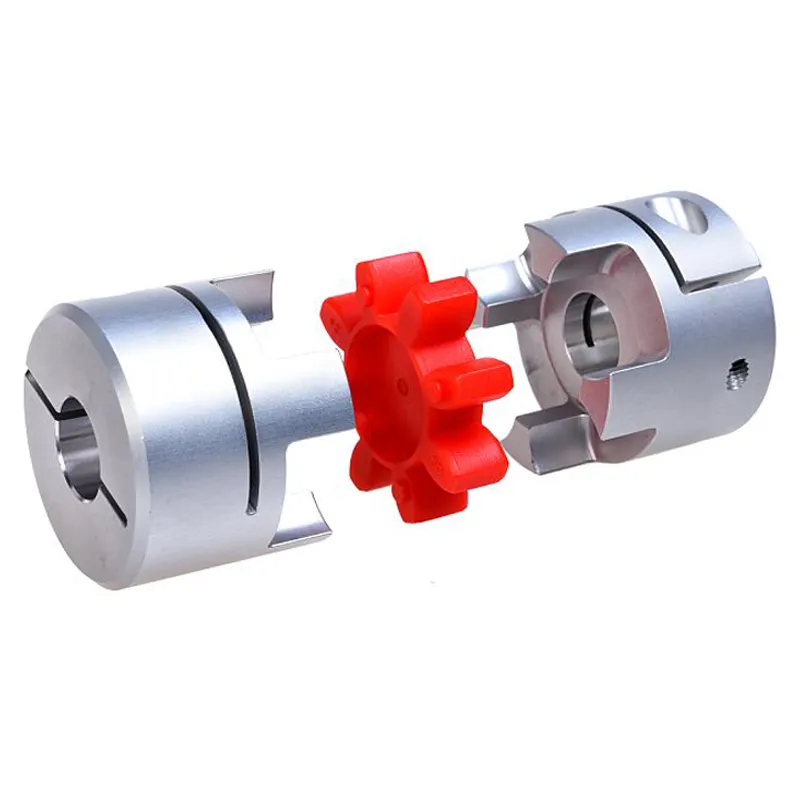 Limitations and Disadvantages of Using Jaw Couplings
While jaw couplings offer several advantages, they also have some limitations and disadvantages that should be considered when selecting them for specific applications:
Angular Misalignment: Jaw couplings are sensitive to angular misalignment, and excessive misalignment can lead to increased wear and reduced service life.
Radial Misalignment: Similar to angular misalignment, radial misalignment should be kept within acceptable limits to prevent premature wear.
Temperature Limitations: The operating temperature range of jaw couplings may be limited by the material used. For high-temperature applications, other coupling types may be more suitable.
Shock Load Absorption: While jaw couplings can handle moderate shock loads, they may not be ideal for applications with severe shock loads, which can lead to increased stress and failure.
Torsional Stiffness: Jaw couplings have a certain level of torsional stiffness, which means they may not provide the same level of vibration isolation as other coupling types.
Backlash: Jaw couplings can have some degree of backlash due to their elastomeric element, which may not be desirable in precision positioning applications.
Speed Limitations: High-speed applications may require careful consideration of the jaw coupling's design and material selection to avoid issues related to centrifugal forces.
Despite these limitations, jaw couplings remain a popular choice in many applications due to their ease of installation, simple design, and cost-effectiveness. Proper selection, installation, and maintenance can help mitigate some of these limitations and ensure optimal performance and reliability of the jaw coupling.



editor by CX 2023-08-21